December 7th, 2023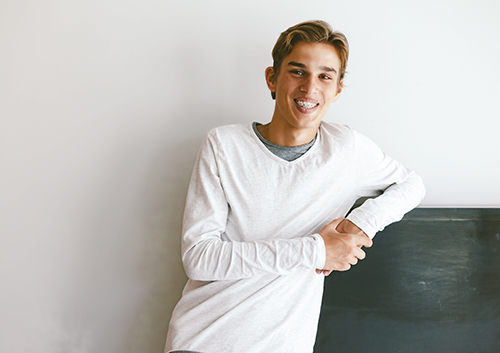 It's the most wonderful time of the year, with the holidays around the corner, and visions of sugarplums and other tasty desserts dancing in everyone's head.
Except, this year you have braces. This means some of your favorites might be on the naughty list. What to avoid? The same kinds of foods that you avoid now: anything hard, crunchy, sticky, or chewy. This means some of the traditional holiday favorites will have to be postponed for a while:
A festive tradition! But, nuts in a sticky sugar filling? Time to create a new dessert tradition that will be less of a problem for wires and brackets.
Gum Drops, Caramels, & Toffees
These super-sticky, chewy treats are definitely hazardous for your braces. Find a soft candy alternative instead.
Candy Canes & Hard Candies
Hard, sticky, and crunchy? Let's save these candies for decorating the gingerbread house this year.
So what can you eat?
Luckily, there are plenty of dessert options that are nice to wires and brackets! Let's look at some festive treats that also easy on your braces.
Soft, moist cupcakes and cakes should be no problem. Fruitcake, with its sticky dried fruits and nuts, should be avoided—which is a perfect excuse if you're not a fan!
Puddings are a smooth easy-to-eat treat, so enjoy! But know your puddings. Some traditional holiday puddings are more cakelike and contain the same chewy ingredients as fruitcakes, so the same advice applies—if it contains dried fruits and nuts, this is not the dessert for you.
The same soft chocolates that you could eat for Halloween are good now, too! If it's just not the holidays without peppermint, smooth peppermint patties are the way to go.
Pecan pies are a firm no, but velvety desserts like pumpkin pie, cream pies, and cheesecake should be fine. And be sure you pick only the soft cookies in the holiday cookie exchange!
When you visit our Columbus, OH office, ask Dr. Dennis Johnson about these and other holiday treats to make sure they are safe for you and your braces. And one more word before we all dig in—too much sugar in your diet creates the perfect conditions for cavity-causing bacteria. But there's no need to give up all your holiday treats.
Just as you would brush after any dessert without braces, be sure to brush now that you have them. Be especially careful to remove any sugary residue from around your brackets, between your teeth, and near your gum line. And it's always best to eat sweet treats as part of a meal, to reduce the effect of sugars and acids on your teeth.
Oh, and about those sugarplums? These candies originally contained no soft, tender plums at all. They were actually tiny treats created by coating a seed or nut center with a hard sugar shell. But you don't need to worry about missing out on Victorian treats—with all of your delicious and braces-safe dessert choices, you'll be enjoying a very sweet holiday season!